SOLAR, ELECTRICAL, AND EFFICIENCY SERVICE WARRANTIES
Our work is backed with industry-leading quality guarantees.
Artisan Electric warrantees all of our mechanical and electrical workmanship. If there is any issue with your solar PV system due to our workmanship, we will correct the problem and any damage resulting from it at no cost to the customer for 25 years from date of installation. If the system does not produce the amount of power we document in your final solar PV proposal on an annual basis, we will either fix the problem or pay you the difference in lost production annually at current utility rates. The production warranty covers a total of 25 years starting from date of installation. 
SOLAR WARRANTY
25-year IBEW-backed workmanship guarantee. If an issue arises with any aspect of our electrical or mechanical work, give us a call. 
25-year performance guarantee. Your system will produce at or better than our estimates annually, or we'll refund you the production difference. 
---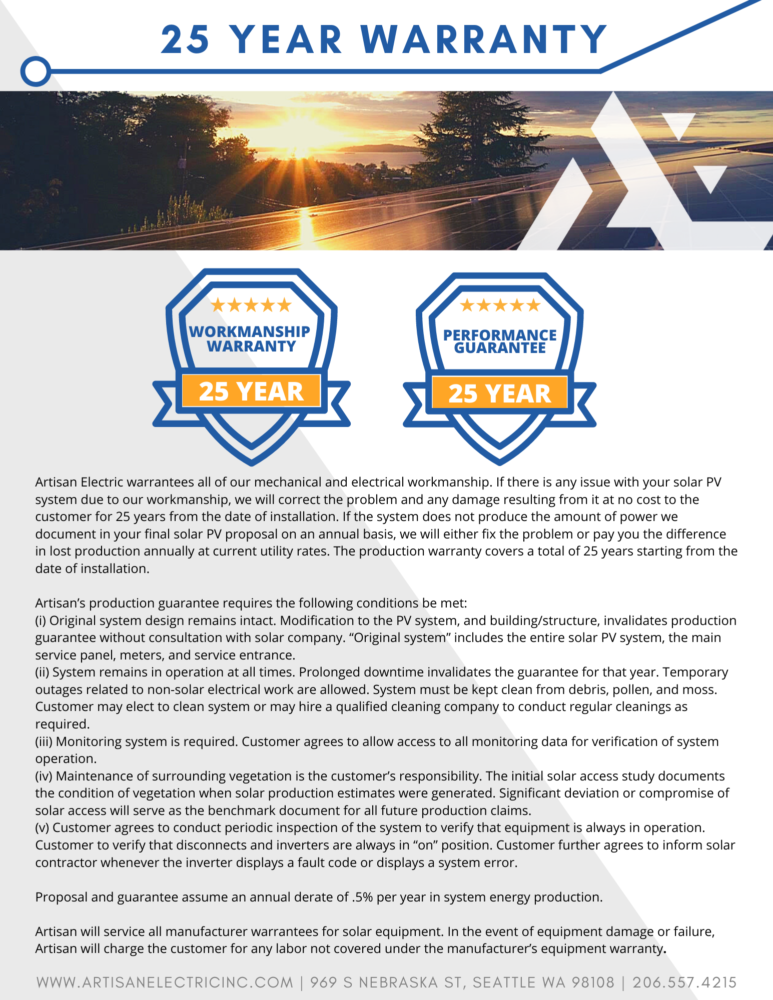 At Artisan, we take pride in our reputation for unsurpassed quality and durability. With the industry's only IBEW-backed warranty, we offer comprehensive, long-term customer support.
ELECTRICAL WARRANTY
As a Residential Energy Services (RES) contractor, our warranty is backed by a five-year guarantee for residential work by our electrical union, IBEW Local 46.
To learn more about how you can benefit from our warranties, sign up for a free site assessment.