SOLAR IS THE FUTURE, THE FUTURE STARTS NOW.
---
At Artisan Electric, we believe that clean and efficient energy should be easy, accessible, and beautiful — and we turn that potential into reality for our customers.
Since 2007, Artisan Electric has helped shape the Puget Sound's energy future. We do this by educating communities, simplifying processes and creating solar energy solutions that are both practical and elegant.
With over 11 megawatts of solar power installed (as of April 2022), Artisan is one of the largest and most respected solar contractors in the Puget Sound region. We are proud to set industry standards for quality, design and customer service. As a signatory IBEW Local 46 Electrical Contractor, and the only union solar installer in Western Washington, we believe strongly in providing living wages and long-term careers in the energy industry. 
Artisan brings an integrated approach and signature craftsmanship to every project. We show homeowners and businesses that clean energy is a smart investment and a great fit for their energy needs and aspirations.
Schedule a consultation to see why people choose Artisan Electric.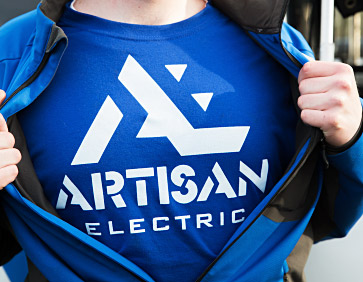 Artisan Electric never stops working to raise the bar for quality, artistry, and customer service. Grounded in years of experience, we always look ahead to the future of the industry and continues to evolve as leaders in the Puget Sound's clean energy movement.
LEADERS IN INNOVATION.
Inspired by each customer's unique vision, we seek creative ways to integrate form, function, and power. Of the over 1500 residential and commercial solar arrays we have installed throughout the Puget Sound, many have set precedents for design, local sourcing, and incentive eligibility.
LEADERS IN INDUSTRY STANDARDS.
Artisan has a reputation for superior quality and service, and we work hard to stay at the top. Surpassing industry standards, we stand behind our work with a 25-year guarantee. We are the Puget Sound's first and only solar contractor with a team of 100% professionally trained and IBEW licensed journeyman electricians and apprentices—all of whom share our commitment to total customer satisfaction.
Our Ethical Business Promise

 
Artisan Electric Inc. is committed to: 
Ethical business practices

. Our core values are environmental activism through business, personal empowerment of employees and customers, and transparent business practices.  

 

Fundamental human rights.

We avoid supplying products or participating in any business activities that might compromise human rights, including child labor, prison labor, and forced labor.

 

Union Labor. 

As an IBEW Local 46 union employer, Artisan Electric Inc. provides fair wages, fair working hours, and health insurance for all full-time employees.

 

Kaizen.

Artisan is obsessed with improving our company processes. We welcome feedback from – and communication with – our customers, employees, suppliers, and the community to become better. 

 

Safety

. Artisan Electric Inc. puts the health and safety of our employees, customers, and community first. We implement the highest safety procedures both on-site and in our solar and electrical designs. 

 

Leadership

. We are heavily involved in local and national solar policy to make solar more accessible and equitable for our customers. 

 

Synergistic Partnerships.

 We prioritize relationships with suppliers and partners who implement ethical business policies in line with those listed above.

 
Our Commitment to Sustainable Product Sourcing

 
Artisan Electric Inc. sources local products whenever possible.  
We are committed to providing the best products suited to every job:  the highest quality product sourced from the manufacturer with the best labor practices and least environmental impact. 
We consider the environmental impact of sourcing, delivery, handling, usage, recovery, recycling and disposal of all equipment we sell. 
We are firmly opposed to any use of forced labor within the solar supply change and as a member of the Solar Energy Industries Association have committed to the  Solar Industry Forced Labor Prevention Pledge,  
Our Sustainable Work Environment

 
Artisan Electric Inc. is committed to maximizing our positive contribution from renewable energy while minimizing the carbon footprint created by our business activities. 
Our Georgetown office is strategically located to minimize driving distances to our suppliers and customers. 
We offer solar PV installations at-cost to employees wishing to install solar at their own homes. 
Our fleet includes four electric vehicles with a goal is to transition to a 100% electric fleet by 2025. We supply free EV charging to staff and customers on-site. 
We conduct business digitally and paperless wherever possible. 
We encourage employees to work remotely whenever possible to cut down on carbon emissions created by commuting. 
We separate, recycle and reuse jobsite waste to minimize the amount of waste we put in the landfill. 
Our offices are outfitted with energy-saving devices including: 
high efficiency LED lighting throughout the building

occupancy sensors to turn off lighting when not in use
windows providing natural lighting and heat
EV charging stations on site
low flush toilets
ENERGY STAR office equipment
ENERGY STAR appliances in break rooms
recycling and composting on-site

 
Our solar installation electricians follow green electrical practices including proper handling and disposal of hazardous materials including limiting the amount of waste generated wherever possible.
Our Commitment to Equality

 
Artisan Electric Inc. strives to participate in the community and to help improve our society by making it more just and equitable.  
Each year we budget $5,000 to contribute to a community project. In 2020 we donated over 25,500 meals to Food Lifeline to help alleviate food insecurity amplified by the COVID-19 pandemic.  
Artisan Electric Inc. is a leader in educating and raising awareness around solar energy, energy efficiency, and climate change through workshops, webinars, lectures, tours, and working with WASEIA on policy at the state level.  
 We have worked on community-wide solar programs with Spark NW including Solarize Northwest, Solarize Central/SE, and Solarize Southwest. These campaigns democratize accessibility to solar, raising solar awareness, and provide donated solar PV installations for the community.   
 Artisan Electric Inc. is 20% female-owned. As a signatory of IBEW Local 46, we make it a priority to work with minority and female electricians and support staff. The IBEW apprenticeship program (JATC) has been especially adept at connecting minority students and business owners and the number of minorities entering the solar labor workforce is increasing.  
We participate in outreach efforts including Apprenticeship and Nontraditional Employment for Women (A.N.E.W.), Veterans in Construction Trades (V.I.C.E.), and Pre-Apprenticeship Construction Training (P.A.C.T.).   
We stand in solidarity alongside members of the Black and African American, AAPI, Hispanic and Latinx, LGBTQ+, Indigenous, Muslim, Jewish, disabled community, and all others who have been economically or socially disadvantaged by discrimination. We believe there is no climate justice without social and racial justice. 
We would like to acknowledge that we are on Indigenous land, the traditional territories of the Coast Salish people.
 

Industry-Leading Standards

 
25-year

 

IBEW

-backed workmanship guarantee 

 

25-year performance guarantee 

 

Small Business Certified 

 

NABCEP

 Certified Solar Pro # 092411-160 

 

NABCEP

 Certified Solar Pro: #110112-79 

 

General Insurance up to $2,000,000 with West American Insurance Company 

 

NECA

 Member 

 

WASEIA Member

 
Artisan Electric Inc. was founded in 2007 by Jason Williams, a union journeyman and experienced residential and commercial electrician who wanted to exercise his passion for energy efficiency and renewable energy solutions. He formed Artisan Electric as a signatory IBEW contractor and hired other professionally trained union electricians from the Local 46 hall, and began to focus on designing and constructing the highest quality solar installations in a fledgling industry.
Several years and much success later, Artisan outgrew the offices on Vashon Island, and in 2013, relocated to our permanent headquarters in the historic Georgetown neighborhood of Seattle. Artisan has grown to a total of 35 full time staff (and growing).