The World's Most Powerful 60-Cell Solar Panel​
Founded in Norway in 1996, REC is a leading vertically integrated solar energy company. Through integrated manufacturing from silicon to wafers, cells, high-quality panels and extending to solar solutions, REC provides the world with a reliable source of clean energy. REC's renowned product quality is supported by the lowest warranty claims rate in the industry. REC is a Bluestar Elkem company with headquarters in Norway and operational headquarters in Singapore. REC employs around 2,000 people worldwide, producing 1.6 GW of solar panels annually.
The REC Alpha Series offers the world's most powerful 60- and 72-cell solar panels, empowering you to take full advantage of solar energy. With up to 380Wp 60-cell power, reaching 450Wp in a 72-cell format, and impressive 217 W/m², REC Alpha delivers over 20% more power, making it the panel of choice for system owners who seek the best. Leveraging the most cutting-edge cell architecture in combination with an advanced connection technology, the REC Alpha Series pushes power, efficiency, and reliability to a new level. Delivering the world's highest power density in a 60-cell format, the Alpha REC365AA solar panel maximizes power, savings and greatly increases the customer's energy autonomy. It also offers a super strong frame design with two support bars across the rear, the REC Alpha Series is able to withstand loads, e.g., snow of up to 7000 Pa making it stronger and more robust than competitive products. The innovative frame protects against deformation increasing reliability and long-term high power. In addition to their superior frame, REC also incorporates Advanced Connection Technology into the Alpha Series. REC's ACT is a specially-developed low temperature solder and lead-free connection technology that protects the cell from thermal stress during production for improved quality. With over 1600 contact points per cell, the Alpha dramatically improves current flow to produce even more power. REC continues to utilitize their iconic Twin design delivering a significant power boost compared to conventional panels, as well as improving performance in shaded conditions. This paired with Heterojunction Cell Technology allows them to combine all the advantages of crystalline and thin-film solar technologies in a single hybrid structure, providing the most effective cell passivation on the market for the highest levels of power and efficiency – even in hot climates.
Features
Advanced Cell Connection Technology
– Increased number of wires greatly improves flow of electricity current
– Eliminating invasive soldering removes risk of cell damage or microcracks for long-lasting high performance
– Stylish looks thanks to thin, barely-visible wires and uniformly black-colored cells
– Full-black variant is a design masterpiece and the most elegant feature for your home
– Solder-free cells reduces lead content by a colossal 81%
– Environmentally-friendly manufacturing drastically reduces carbon footprint
REC's Iconic Twin Panel Design
– Award-winning design, pioneered by REC
– Panel split into two 'Twin' sections
– Reduces internal resistance for more power and reliability
– Continued energy production in shaded conditions means you see higher energy yields​
Super-Strong Frame
– Allows extreme loads up to 7000 PaPanels maintain high performance levels over the installation lifetime
– 30mm (1.8″) frame height makes panel easier to handle
– Frame design allows optimized transportation: more panels/pallet = more panels/container = fewer trucks on the road = more savings
Heterojunction (HJT) cell technology
– No LID = no power loss; you get the power you pay for
– Leading temperature coefficient means more energy as temperature rises
– Maximum power for maximum savings and accelerated return on investment
– Its leading power density (217 watts/m²) is ideal to get the most from limited spaces
– Over 20% more power on your roof compared to conventional panels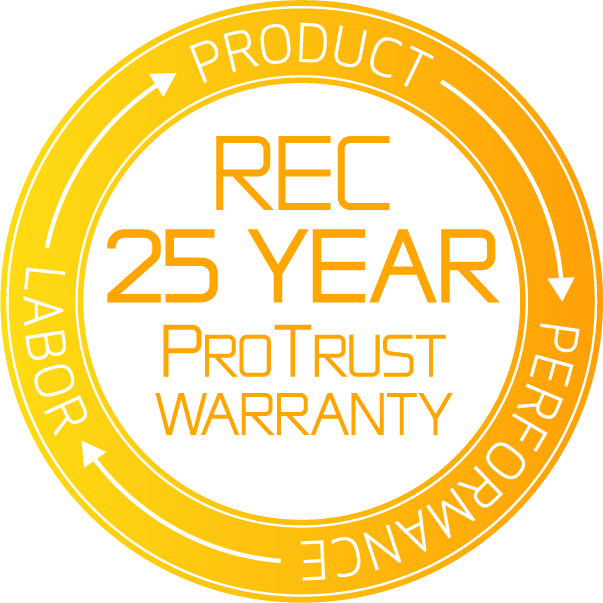 A smarter energy solution is closer than you think. Take the first step today.