NORTH AMERICA'S LEADING SOLAR MANUFACTURER
Silfab Solar is the North American leader in the design and production of high-efficiency, premium-quality solar panels that are specifically engineered for the North American market. Leveraging over four decades of solar experience, Silfab operates multiple ISO 9001–2015 certified production lines located in Bellingham and Burlington Washington, USA and Toronto, Canada.
40 YEARS OF SOLAR INDUSTRY EXPERIENCE
Silfab has over 40 years of experience in the solar industry. Our founders have extensive international experience, knowledge, and partnerships which offer a key advantage for our North American team in terms of product innovation and leading-edge PV manufacturing technologies.
R&D AND INNOVATION IS A PRIORITY
Silfab's team is dedicated to the integration of superior manufacturing processes and product innovations such as metal wrap through (MWT) and back-contact technology to ensure that our partners receive the latest in solar technology, delivering the most efficient and best performing panels.
BANKABILITY & COMMITMENT TO GROWTH
Silfab's manufacturing experience is validated through third-party engineering audits and inspections that have attracted multiple OEM relationships and partnerships. Silfab's continuous expansion, recognized product quality, and profitability has established Silfab as a top-tier supplier for banks, utilities, and investment companies. DOMESTIC SUPPORT YOU CAN RELY ON Our North American team is available to provide ongoing sales training and technical support for installers and best-inclass customer service for both our partners and homeowners.
HELPING BUILD A SUSTAINABLE FUTURE
Silfab Solar is committed to investing in technology and processes that create a positive contribution to the world and our climate, as well as upholding our core values in terms of providing a safe and equitable workplace for our North American employees, partners, and the community while adhering to the highest ethical business standards.
SILFAB PRIME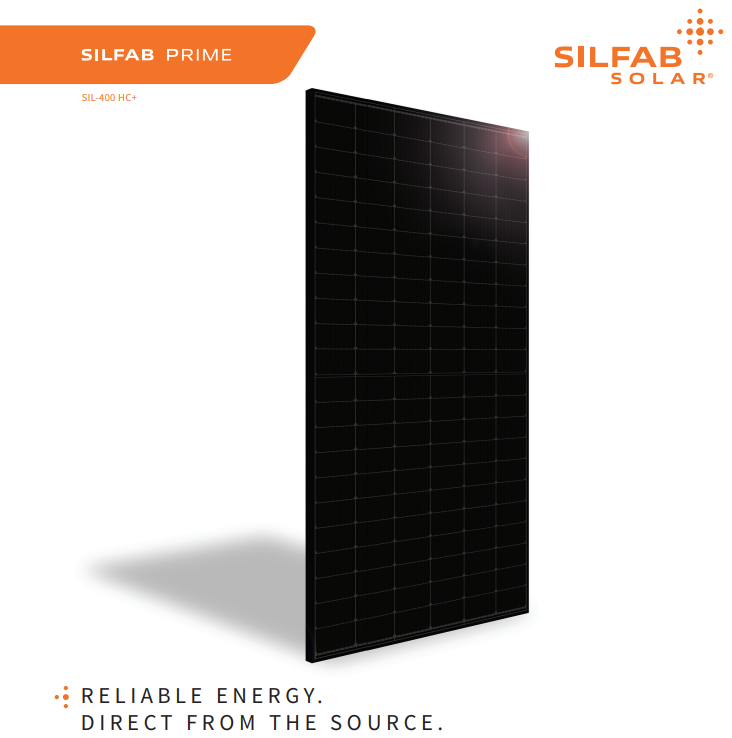 High-Efficiency Premium Mono-Perc PV Module designed and engineered exclusively for North American homeowners seeking a premium, high-quality solar solution you can count on. Precision engineering combined with strict quality controls in our fully automated ISO certified facilities ensures quality panels you can trust. Featuring 9-bus bar technology that maximizes energy collection and conversion while high efficiency half-cell design improves performance and durability.
Manufactured and compliant with the Buy America Act, Silfab modules have been installed by the US State Department, US military and FAA.
SLEEK, ELEGANT AND DURABLE
A sleek all black aesthetic that will look elegant and compliment any roof. Exclusively designed for wide ranging racking compatibility, durability and ease of installation.
INDUSTRY-LEADING WARRANTY
An industry-leading 25-year workmanship and 30-year performance warranty backed by a company that has been perfecting solar products for over four decades.
SILFAB ELITE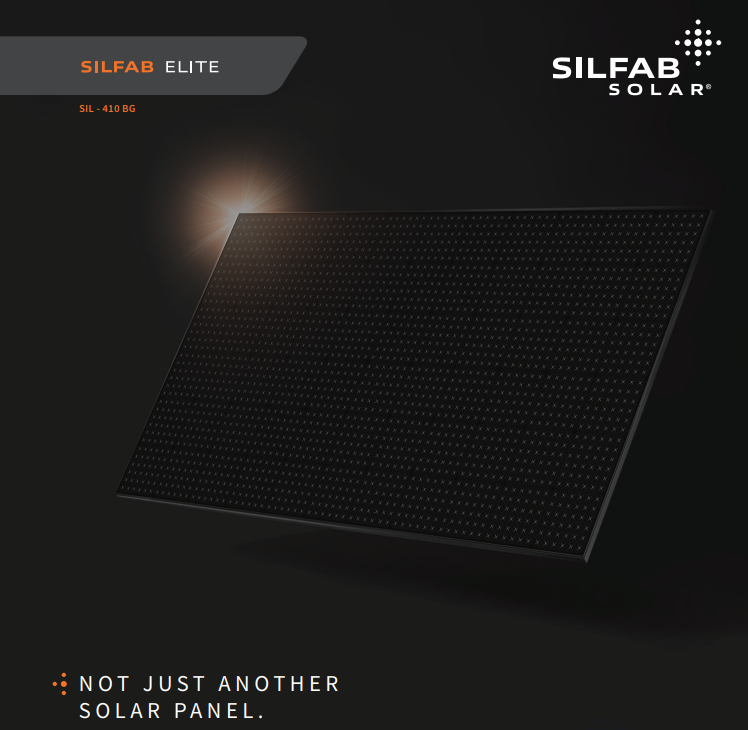 High-Efficiency Premium Mono-PERC PV Module with innovative back-contact technology. Silfab Elite solar panels are exclusively manufactured in America. Back-contact technology with an innovative conductive backsheet and integrated cell design delivers the highest performance, durability and beautiful aesthetics.
AN ENGINEER'S DREAM
Our innovative conductive backsheet and back-contact cell design eliminates the need for conventional stringing and bussing. With electrical contacts on the back of each cell, this allows the front of the module to collect and convert more light into energy. Reduced frontside metallization means less shadowing, maximizing your modules power density.
Reduced thermal stresses and lower operating temperatures dramatically improve reliability and performance.
STRONG, LIGHT, DURABLE AND MANUFACTURED IN AMERICA
Precision automation and 100% US manufacturing ensures strict quality control at our ISO certified facility. These modules are engineered and tested specifically for the North American climate and environment. Superior Performance and higher efficiency give you more power than other US made panels.
MAKE YOUR NEIGHBORS JEALOUS
Sleek all black aesthetic looks elegant and compliments any roofline.
A WARRANTY YOU CAN TRUST
An industry-leading 25-year workman­ship and 30-year performance warranty backed by a company that has been perfecting solar products for over four decades.
A smarter energy solution is closer than you think. Take the first step today.