As we move into a new normal of social distancing and global financial upheaval, it can be difficult to look beyond the immediate needs of family and community. However, solar power might just be the bright spot we all need at this moment. Solar adoption is poised to rapidly increase as the pandemic subsides, as people are looking for new ways to have control and predictability in the face of uncertainty, and protect themselves again future disasters. Solar power, especially paired with battery backup, gives you the power to care for your family by keeping the lights on in outages and provides predictable electrical bills for decades to come while being one of the most valuable lowest-risk home investments you can make.
Here are our Top 10 Reasons why now is the right time to think about solar:
---
1. Now is the time to support local green businesses
Now is the time to buy local and spend money with your values. While Artisan postponed dozens of solar PV installations during our temporary closure, all of our customers stuck with us because now is the time to support companies you want to survive the post-pandemic economy. If you have money to spend, vote with your dollars. Together we can shape what the new economy will look like when we come out of this.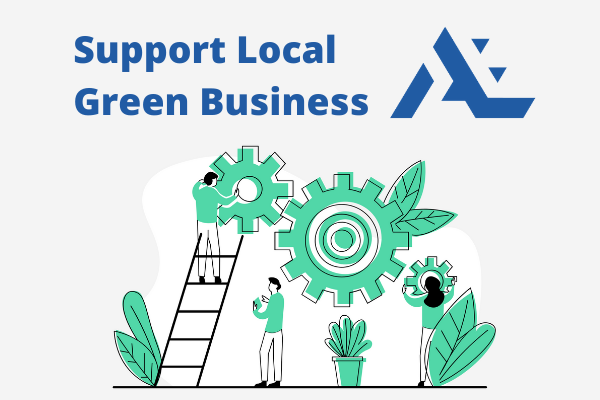 2. Solar can give you a sense of control in a time of uncertainty
A solar power system brings control and predictability to your energy budget. It also insulates you from annual utility rate increases. Utility companies have voluntarily eliminated late charges and power cutoffs during the pandemic. They have also deferred planned or proposed rate increases. Unfortunately, the current decrease in utility revenue will only make future rate increases more substantial and painful.
Solar + Battery Storage gives you peace of mind. Battery Storage allows you to protect your family from power outages and run your house independently from the grid at any time. Battery technology has been a popular component of modern PV systems for years now. The technology is dependable, durable and is the new norm for PV system owners.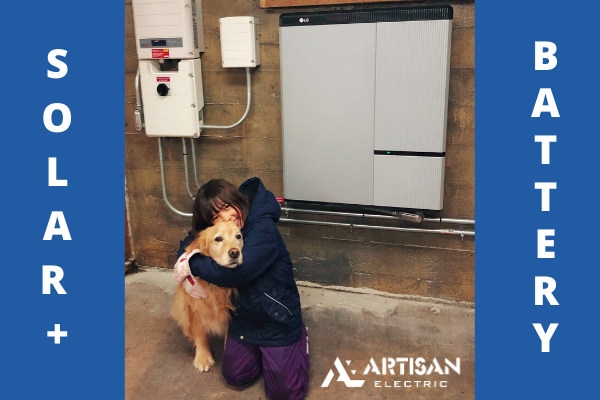 3. Demand for solar will increase after the COVID-19 crisis.
Solar backlogs are filling up as installations across Washington State have been delayed during quarantine and construction closures. Artisan has seen a recent increase in solar leads and referrals because folks have time to research solar, and the weather is getting sunnier. This is the busiest time of year for solar sales, and it's only going to get busier as we move into Summer.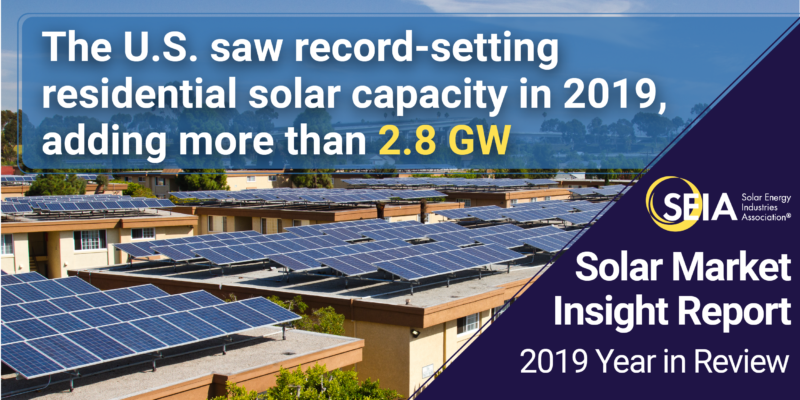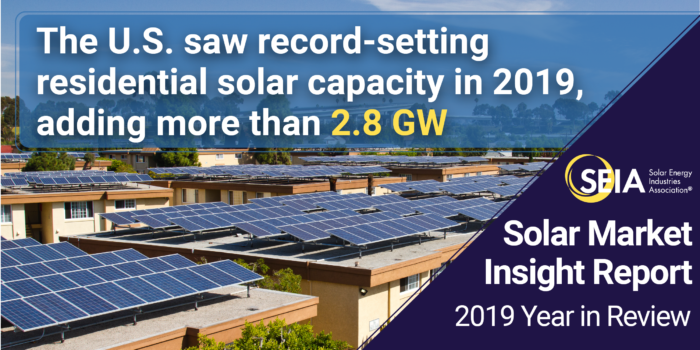 4. You can put your money into a great, lasting home investment
Uncertainty around the COVID-19 pandemic and the corresponding global financial contraction has left the stock market battered and oil demand at record lows. Folks are looking for ways to personally make a difference, become more resilient, and reduce risk in their investments. Solar hits all of these buttons.
Solar increases home value. It saves energy costs and helps the environment. Solar adds value the second it is installed and is one of the safest investments you can make for your home. A solar system is the home investment that pays itself off along the way. A recent report from Zillow explains that solar increases home value by 4.1% on national average. Homes with solar energy systems sold for 4.1% more on average than comparable homes without solar power. For the median-valued home, that translates to $9,274. Personal preferences play a role, too. More than 80% of home buyers say energy-efficient features are important to them. A home solar system is part of an overall commitment to green-living and a sustainable energy lifestyle.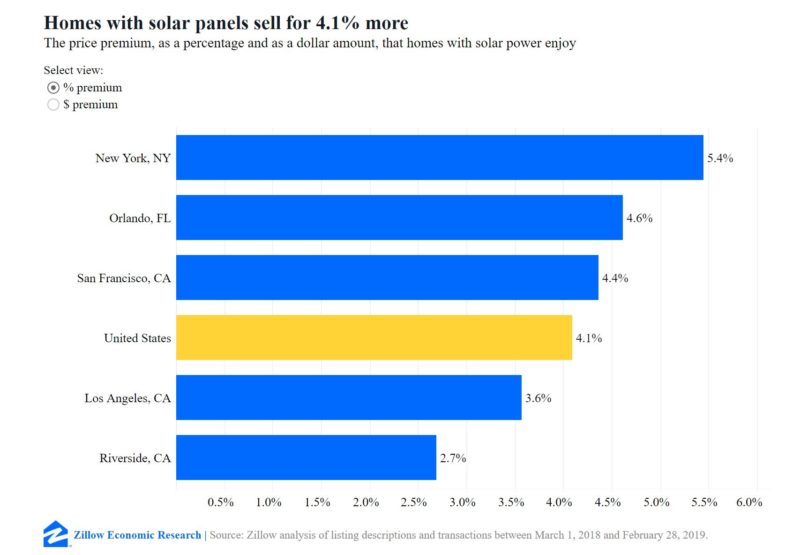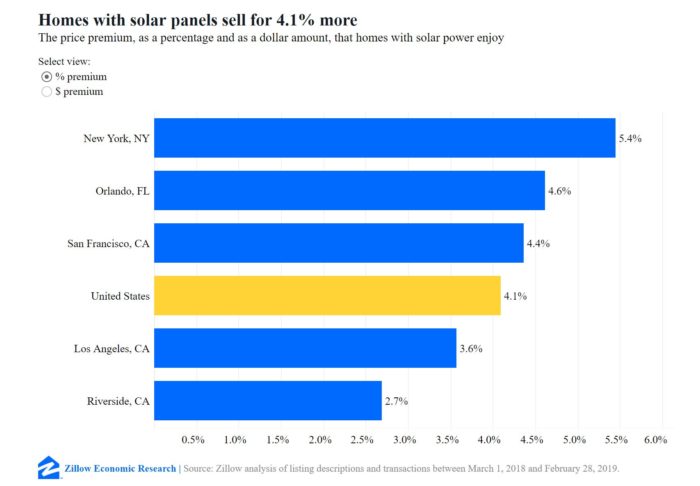 5. PSCCU's $0 down Sustainable Solar Loans are little to no risk
Did you know you can go solar for $0 down, lock in record-low interest rates and support a local credit union? It's true! Since 2010, Puget Sound Cooperative Credit Union (PSCCU) has helped over 7,100 homeowners go solar throughout the state of Washington. PSCCU's Sustainable Solar loans require no money down, interest rates as low as 3.49%, no penalty for paying the loan off early or refinancing it, and flexible terms up to 15 years. By participating in this program, you can qualify for up to $50,000 in solar and other energy efficiency projects.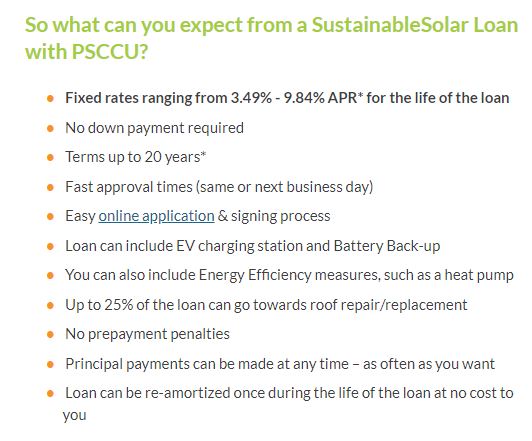 6. Take advantage of the 2020 Federal Tax Credit before it steps down.
The 26% Federal Tax Credit for residential solar is scheduled to step down to 22% in 2021, and 0% in 2022. Get on the installation schedule now to ensure your system gets installed this year and take advantage of the solar season.

7. Give back to those most in need
As a small business, we know how important community is – especially in an emergency situation. That's why we are donating $150 from every solar system purchased to Food Lifeline, a non-profit organization that collects donated food from restaurants and grocery stores which would otherwise go to waste and distributes it to more than 300 food banks, shelters, and meal programs throughout Western Washington, providing the equivalent of 134,000 meals every day for hungry children, adults, and seniors.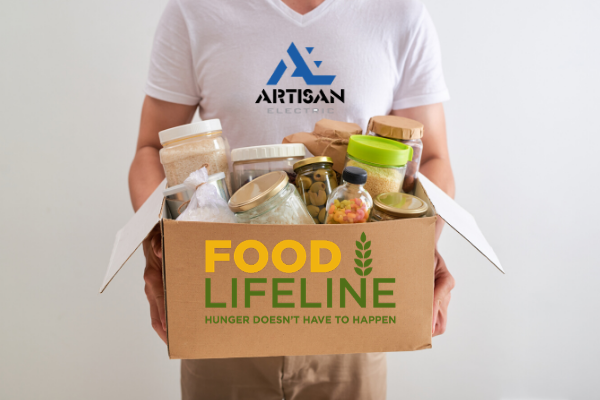 8. Put your stimulus check to good work (besides solar)
We realize how important financial responsibility is to everyone in this difficult time. That's why we're offering a discount of $1200 per new solar system purchased – so that you can spend your stimulus check on helping your loved ones and your community when it's needed most.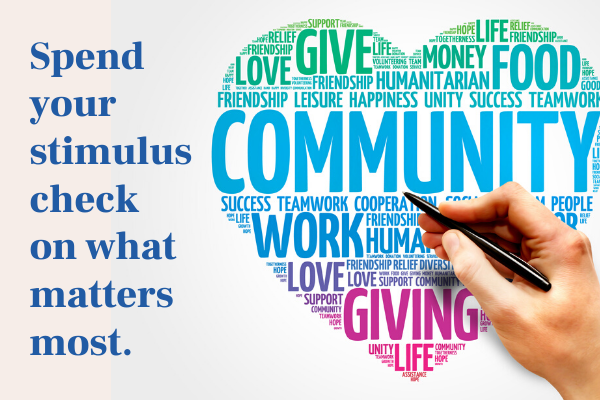 9. Build on the dramatic global reduction in fossil fuel pollution during COVID-19.
While it can sometimes feels like as individuals we are powerless to fight climate change, The COVID-19 pandemic has shown that collective action can have profound effects in a very short period of time. Closed factories, low vehicle traffic and grounded planes have led to staggering before / after photos in major metropolitan areas. It has also caused a crater in oil and natural gas prices. Now is the time to transition away from fossil fuel once and for all. While the contraction in CO2 emissions set off by the virus is mostly invisible, unlike soot and smog, the effects will continue long after the global engine starts back up. Let's build on this silver lining and put our money towards renewable energy instead of bailing out the failing fossil fuel industry.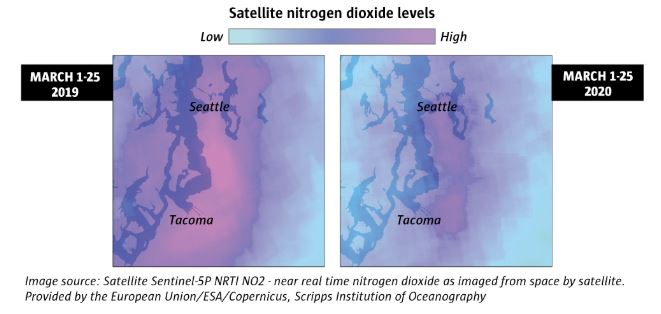 10. Rest assured that Artisan takes your safety seriously, we practice no-contact solar sales and installations
The safety of our customers and staff is our number one priority. We are complying with all CDC and WA State guidelines to keep our customers safe and give them peace of mind. We are performing non-contact installations and remote assessments. You can find more information on the steps we're taking to protect against COVID-19 here.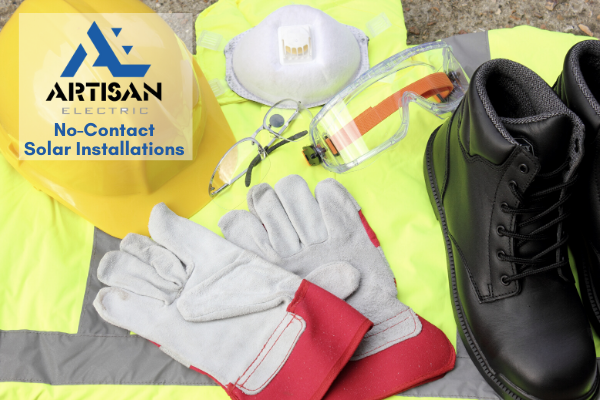 There's no time like the present to find out what solar power can do for you. Book your free, no-obligation, remote solar site survey today!