Americans throw away 25% more trash during the Thanksgiving to New Year's holiday period than any other time of year. The extra waste amounts to 25 million tons of garbage, or about 1 million extra tons per week!
Here are some ways to celebrate the spirit of the holidays while giving a gift to the earth – and your wallet as well.
1. Reuse and Recycle Gift Wrap & Ribbons
Wrapping paper is usually used once and thrown away. Most gift wrap is not recyclable due to the metallic and glitter ink used on the paper. Instead, choose reusable gift wrap, and recyclable wrapping paper and ribbon. If every American family saved just two feet of holiday ribbon, it would amount to 38,000 miles – enough to circle the planet with just enough left over to tie a bow.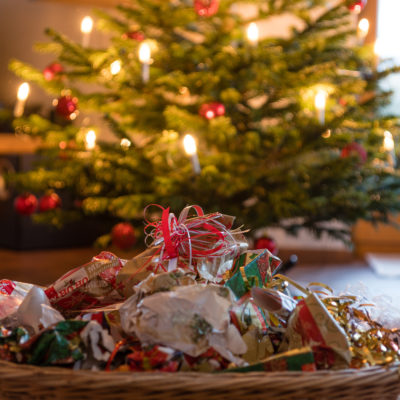 2. Use Sustainable Wrapping Materials
Sustainable and natural wrapping materials can be very beautiful. The Japanese tradition of cloth wrapping called furoshiki offers many creative ways to wrap with fabric. Beeswax paper is also a good environmental alternative to non-recyclable wrapping paper. Instead of plastic ribbons and bows, consider natural decorative materials such as fresh greenery or dried leaves.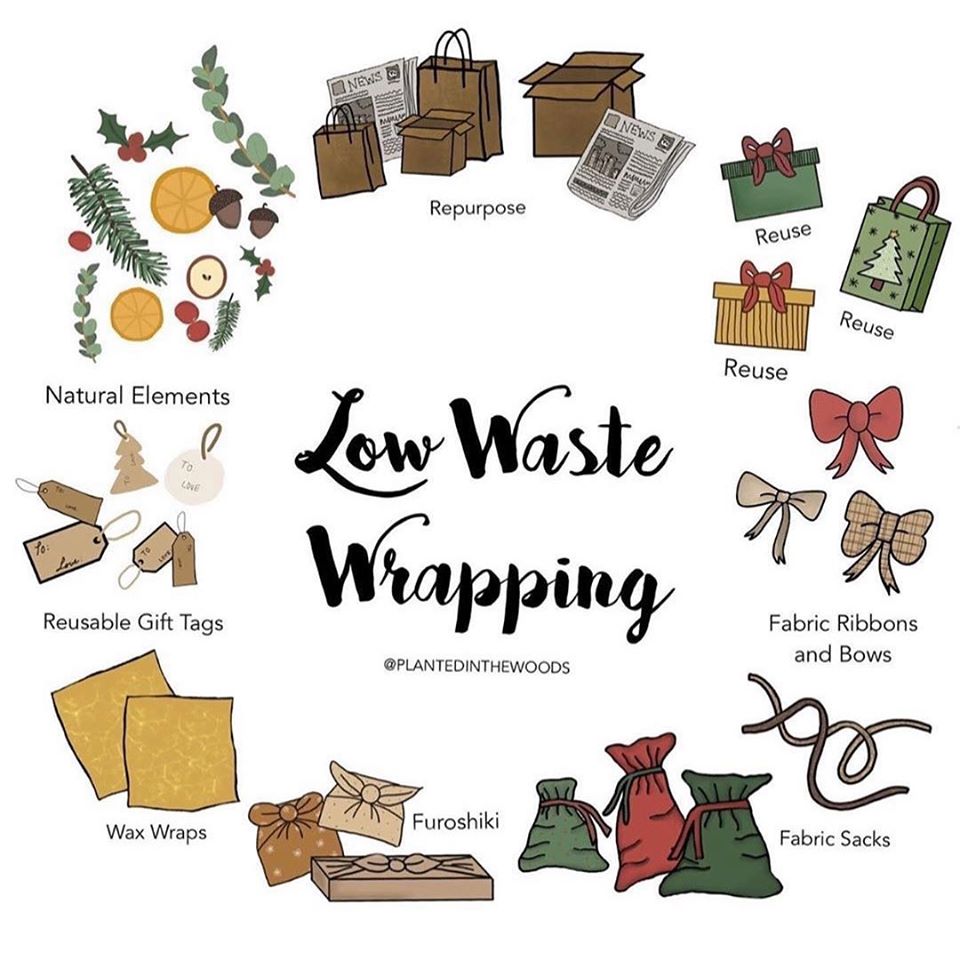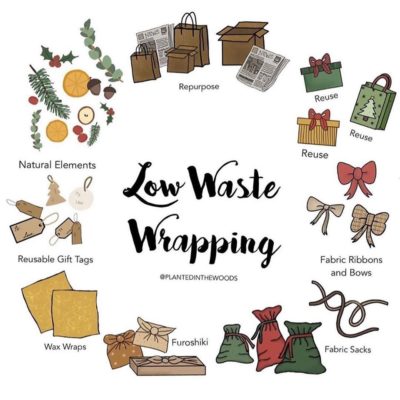 3. Eco-Friendly Host Gifts
For holiday dinners and parties, consider using reusable drawstring pouches for wine or liquor gifts. Give homemade baked good in mason jars or reusable, decorative boxes or tins.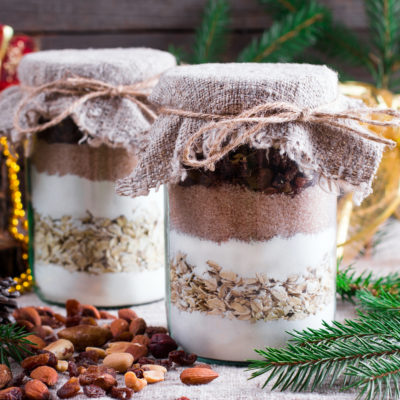 4. Go Paperless, or Re-purposed for Holiday Cards
2.65 billion Christmas cards are sold each year in the U.S. – they could fill a football field 10 stories high. If we each sent one card less, we'd save 50,000 cubic yards of paper per year.
Most greeting cards end up being thrown away immediately after the holidays – a digital card can be kept on a hard drive forever.
If you do send holiday cards, look for ones that are recyclable and locally made. Consider sending holiday greetings in second-hand books from your local thrift store. That way you can give a greeting that's also a book that will be kept on the shelf for years to come – and make for some great holiday reading too!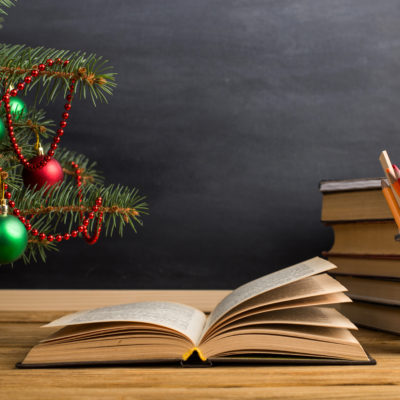 5. Get A Green Tree
The consensus is that a real tree is almost always more environmentally friendly than an artificial tree. Most artificial trees are manufactured overseas and need to be shipped over great distances to American retailers. They are often composed of a mix of materials which are difficult to recycle and end up as eco-waste in landfills.
Don't feel bad about cutting down a tree for the holiday. Christmas trees are crops grown on farms, like lettuce or corn. They are not cut down from wild forests on a large scale. Real trees can be recycled, planted outdoors if they still have roots or mulched for landscaping use. The greenest tree is one that is grown locally and recycled or re-planted.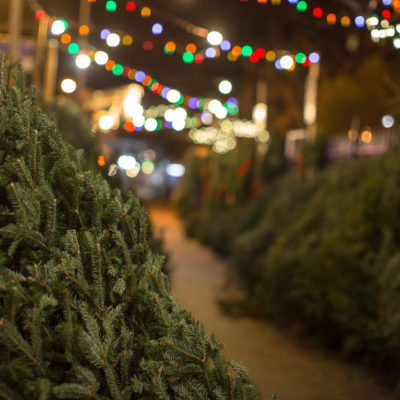 6. Use LED Solar Powered Lights
LED bulbs use around 75 percent less energy than incandescent bulbs, and last longer, too. Consider solar powered lights for outdoor use. A rooftop solar array can power your home year-round – and the energy you produce can pay for the extra energy you use to light up your home over the holidays!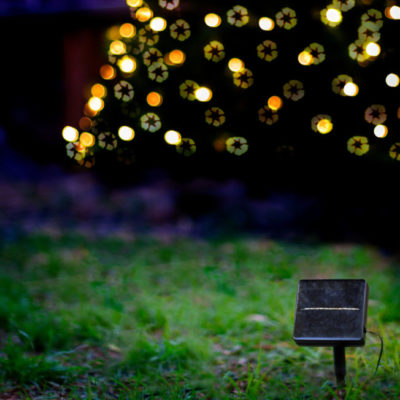 7. Bring Reusable Containers for Leftovers
Avoid single-use plastics, and if you do need extra disposable plates and cutlery look for compostable or biodegradable table settings. Visit your local thrift store to stock up on a reused set of extra dishes for holidays. Make sure to have a few recyclable to-go containers for guests to use – and don't forget to take some with you when you visit others.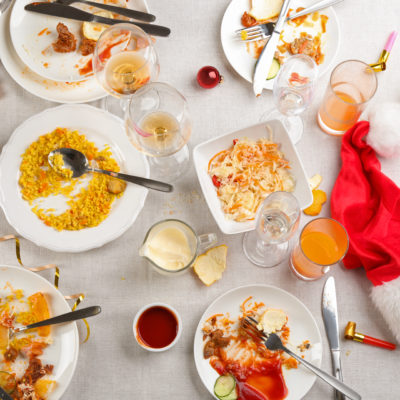 8. Give Thoughtful Gifts
Homemade gifts that come from the heart often mean the most to the receiver. Homemade candles, soap or paper make great gifts. Knitting, sewing, baking, creating art or favor coupons are great ideas too. Local trips or outings such as museum memberships, event tickets or gift certificates to restaurants or concert halls etc. reduce waste created by "stuff". Think meaningful and durable to avoid fad gifts (remember pet rocks, Pogs, and Tickle Me Elmo?). Instead look for gifts with an environmental or sustainable message. Choose solar powered instead of battery powered or energy-efficient products.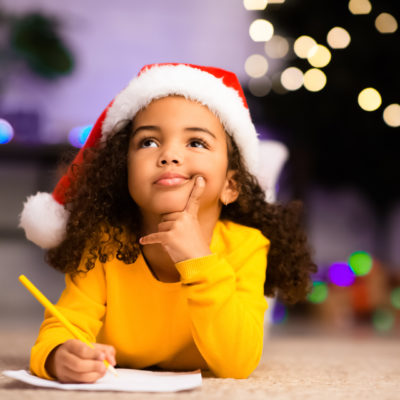 9. Conserve Energy in Your Home
Turn off holiday lights when you leave the house. Consider non-light up decorations using natural materials such as popcorn and cranberry strings. Keep doors and windows sealed to the cold air and put on a sweater before you touch that thermostat! For more home energy conservation ideas, book a free home energy assessment with PSE.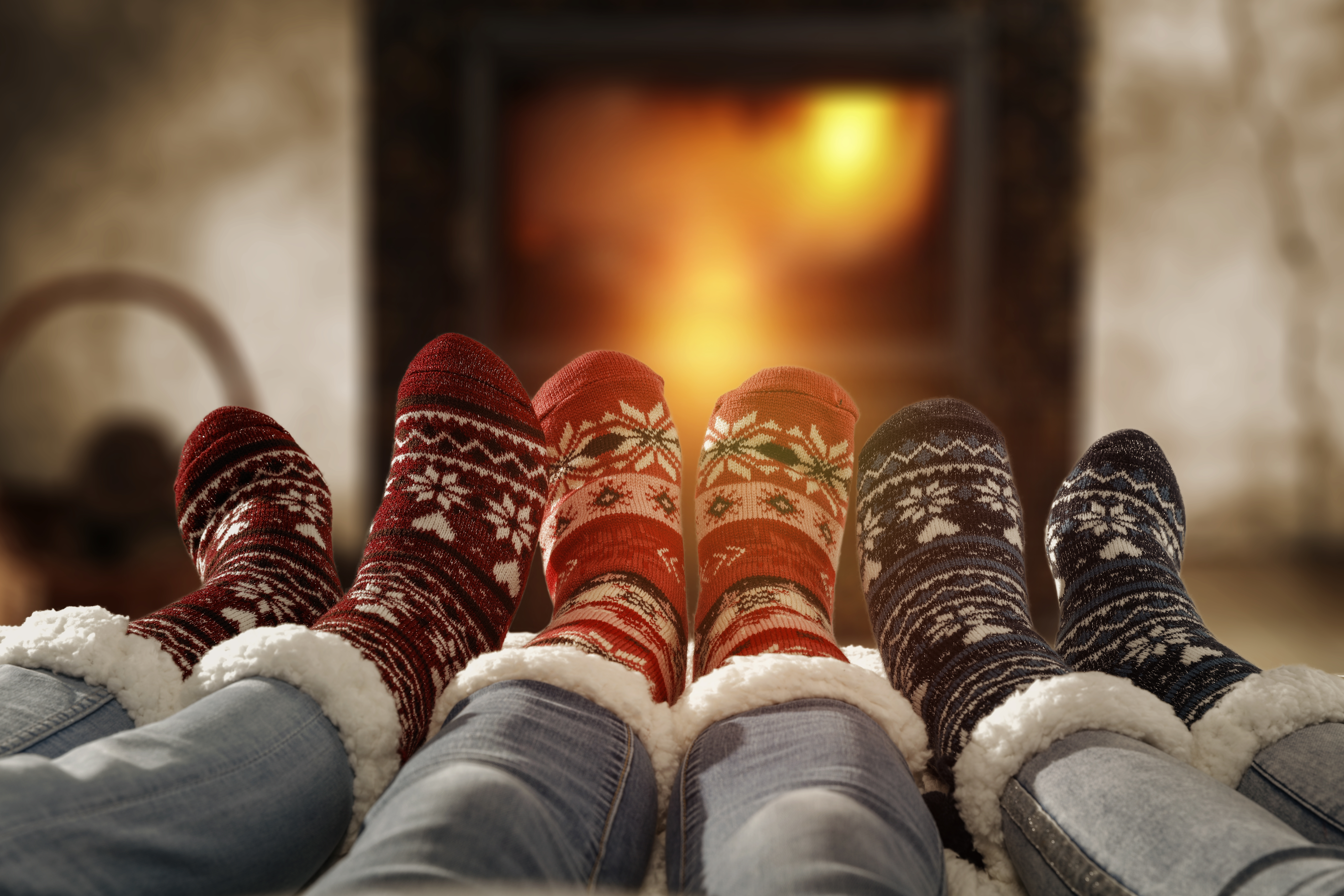 10. Go Solar
Did you know you can power your home with solar all year round – even when it's not sunny? Summers in the Puget Sound are hot, sunny and long (it's bright from 5am to 9pm). Ironically, this is the time of year when people are also using the least amount of power. Thanks to net metering, excess energy goes back into the grid to be used by your neighbors, and you receive a 1:1 watt-for-watt credit from your local utility. During the winter months you receive a credit for the energy you produced in the summer and just like that you've got solar power all year long! Schedule your free solar site survey today to learn more!
Go green and don't get coal in your stocking this holiday season!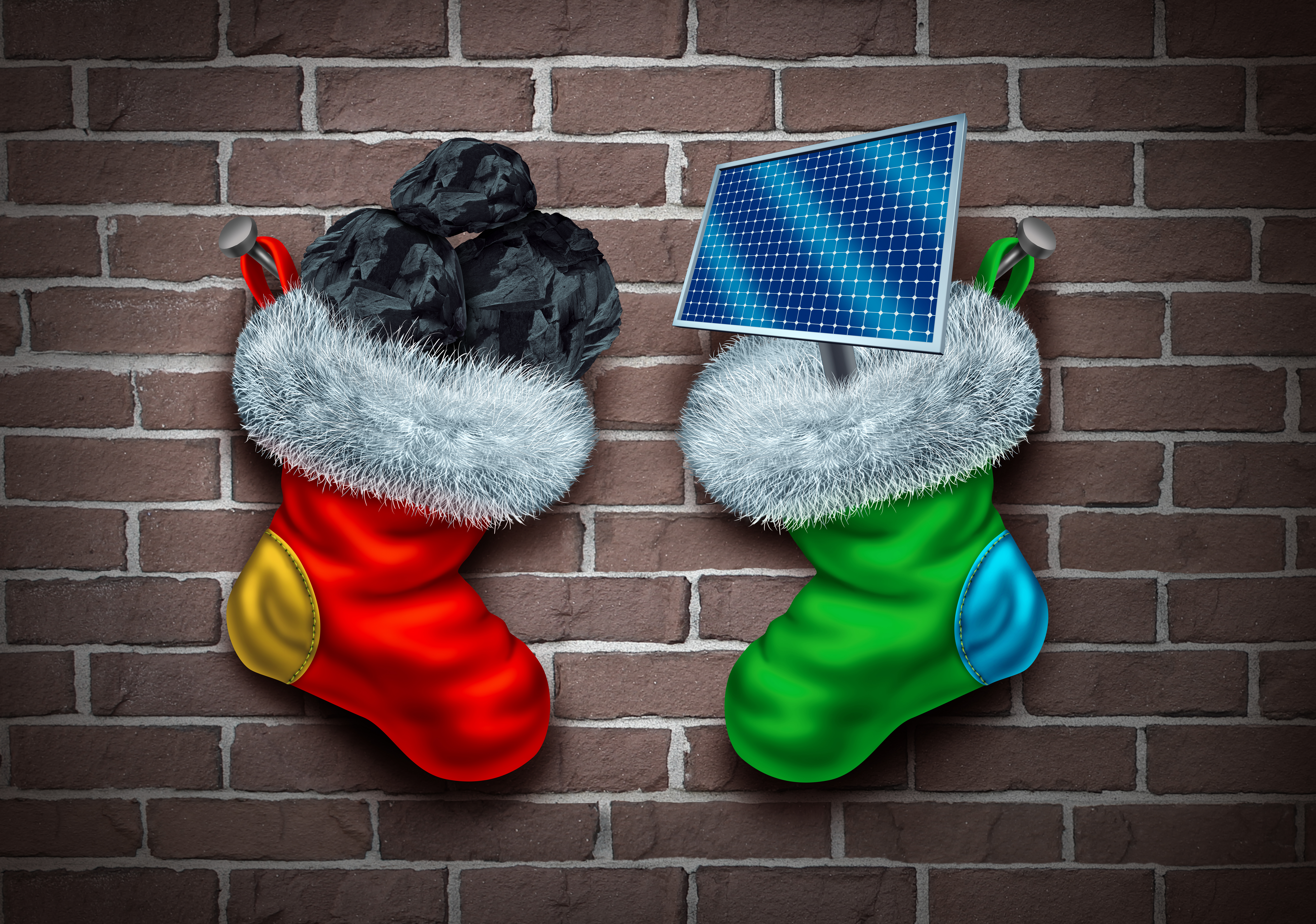 Visit us our blog at www.artisanelectricinc.com for more news and tips!

Artisan Electric Inc
969 S Nebraska Street Suite A
Seattle, WA 98108
(206) 557-4215
Follow Us On Social Media
https://facebook.com/ArtisanElectricSolar
https://twitter.com/artisanelectinc
https://www.youtube.com/artisanelectricinc
https://www.linkedin.com/company/artisan-electric-inc-
https://www.instagram.com/artisanelectricinc