Solar increases home value. It saves energy costs and helps the environment. Solar adds value the second it is installed and is one of the safest investments you can make for your home. A solar system is the home investment that pays itself off along the way.
Solar increases home value by 4.1% on national average.
A new report from Zillow explains how. Homes with solar energy systems sold for 4.1% more on average than comparable homes without solar power. For the median-valued home, that translates to $9,274.
The amount of the increase varies by market, here are some examples. In Riverside California, homes with solar-energy systems sold for 2.7% more than homes without solar power. That's an increase of $9,926 for the median-valued home in that area. In the greater New York City metro, the increase in solar-powered home value doubles that of Riverside. At 5.4%, that's an extra $23,989 in value for the typical home in New York. Similar results are found in other coastal metro areas. In Los Angeles, San Francisco and Orlando, homes with solar power can fetch a premium of around 4%.
Why pay the utility company when you could pay yourself?
There are many reasons houses with solar-energy systems sell for more than those without. A big reason is that they can provide substantial future energy cost savings. The average home consumes a lot of power. For most people it's worth spending a bit more money up front for future savings. Homes with solar-energy systems are also more likely to have other efficiency features such as upgraded insulation, energy saving light fixtures, doubled-pane windows etc.
Personal preferences play a role, too. More than 80% of home buyers say energy-efficient features are important, according to the Zillow Report. A home solar system is part of an overall commitment to green-living and a sustainable energy lifestyle.
Solar adds value with tomorrow's buyers.
Solar systems depreciate slowly over time. The Lawrence Berkeley National Laboratory examined 70,000 homes and found that once installed, solar systems depreciate by about 9% per year. However, a solar system will never fully depreciate until it is no longer in commission. By the time it has sufficiently lowered in value, the system is paid off. At that point you are now receiving free power rather than paying the utility company. This is why solar is a key factor in the competitiveness of a home on the market.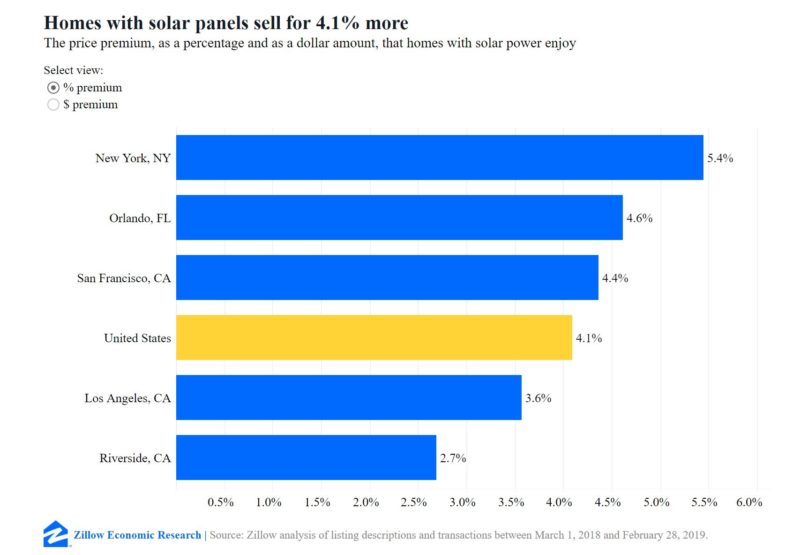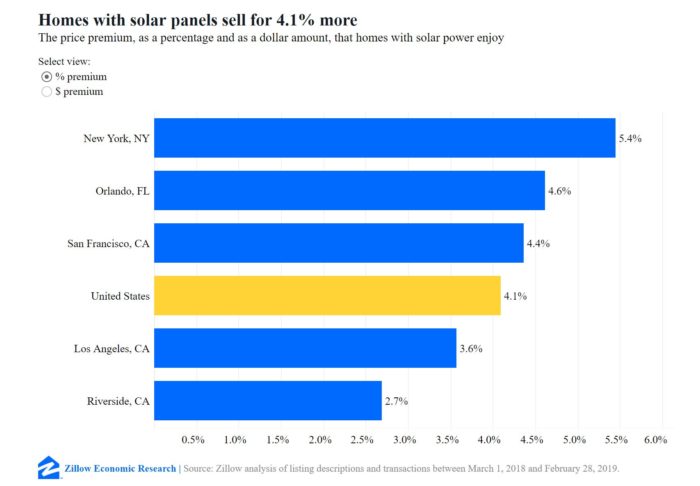 What do the experts say?
When it comes to real estate and home value predictions, we turned to an expert. Realtor Connie Sorensen, who serves Vashon Island home buyers, gave us her perspective on solar's influence over the housing market. Here is what she had to say:
"Millennials & Generation X make up the largest sector of current home buyers and future home buyers.  Homeownership rose in 2017 for the first time in 13 years. This is driven by young buyers who overcame rising prices, tight supply and strict lending conditions to purchase their first home. 
With more tech opening than the Bay Area, meteoric population growths has made Seattle (and surrounding areas) the fastest growing large city in the US. Seattle has the steepest rise in median home prices – increasing by 1% per month for the last year. (source: FutureCast Forum Seattle Magazine).
Younger generations are much more purpose driven and aspects of "green" building that make the world a better place resonate with them. Sustainable home features are becoming less differentiating and more of a given. Buyers want to incorporate sustainability into their remodel projects and new builds. Now, not having green features is a huge disadvantage. Making the investment now in your home puts you in a better market position for tomorrow's buyer."
Maximize your home's value with solar
While the value of solar panels varies from place to place, solar panels are a wise investment to increase home value in Washington state. For customized information about the solar potential of your home, sign up for a free solar site survey.