Brand new legislation has just been passed to make your solar pv system 100% sales tax exempt. Solar is great in Washington state – and getting better all the time!  Read on to find out more about the sales tax exemption and learn about other solar incentives in Washington state.
SOLAR SALES TAX EXEMPTION
Starting July 1, 2019 all solar pv systems under 100 KW are exempt from sales tax. Click to the bill report as passed during the 2019 legislative session.
For more information on the implementation of the sales tax exemption visit the DoR's 2019 Tax Legislation page and click on the "clean energy" link for details.
SOLAR FEDERAL INCOME TAX CREDIT
The federal Investment Tax Credit (ITC) covers 30% of your solar system's full installation cost (materials and labor), as well as batteries and any necessary onsite preparation, such as replacing electrical panels, rebuilding electrical service, or reinforcing roofs. There is no maximum or cap on the expense amount.
The solar system must be installed on the taxpayer's primary or secondary residence, and the system must be installed by December 31 of the same tax year in which the homeowner plans to use the credit.
The tax credit can be taken even by people who pay the Alternative Minimum Tax (AMT). If the federal credit exceeds the customer's tax liability, the excess amount can be carried forward to succeeding years until 2022.
Any unused tax credit can be carried forward the following year.
For residential systems, this credit will decrease incrementally from 30% to 26% in 2020, and 22% in 2021. The credit expires on Dec. 31, 2021.
Learn more at the SEIA website.


NET METERING
With net metering, your electric utility becomes your energy bank. A bi-directional meter replaces your existing electricity meter to track the production and use of your home's energy. When your solar energy system produces more power than you're using, the excess electricity spins this meter backwards, giving you a dollar-for-dollar utility credit for all the excess energy. At night, when the sun isn't shining, you make withdrawals from the grid and use the credits you stored earlier in the day. In the summer, when days are long and sunny, most customers produce more energy than they need, building up credits with their utility that are used to offset their usage in the wintertime, when days are short and cloudy.
Update from May 2019. The 2019 Washington State Legislature updated Washington State's solar net metering statute via E2SSB 5223. In summary, an electric utility must offer to continue to make net metering available to eligible customer-generators on a first-come, first-served basis until the earlier of either June 30, 2029; or the first date upon which the cumulative generating capacity of net metering systems equals 4 percent of the utility's peak demand during 1996. Click to read the summary. Click to read the full text of the legislation.
Visit your utility's website and search on "net metering" to learn about their specific requirements for interconnection to their grid and net metering.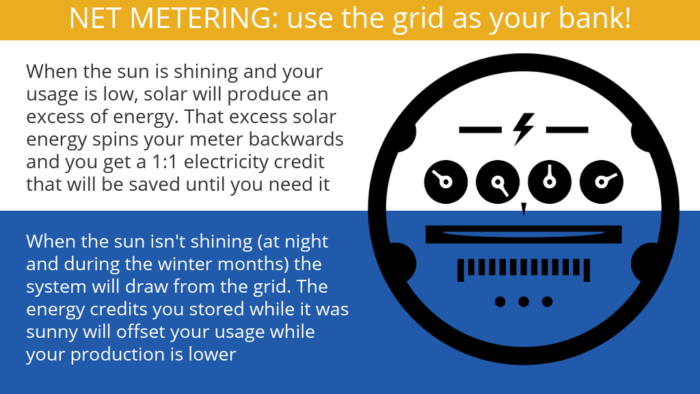 LOCAL INCENTIVES FOR ENERGY EFFICIENCY
Many utilities offer incentives and rebates for energy efficiency upgrades that help their customers reduce their use of electricity. Review a comprehensive list of PUDs and utilities in Washington state. Check your utility's website to find out what they have to offer or click here for a database of incentives by state.
Take advantage of these great incentives click here to book your free solar site survey today!
Citations: