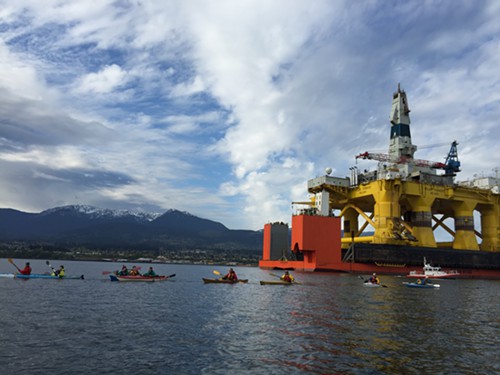 In spite of tremendous national outcry from environmental groups, citizens and many political figures—and our own local efforts from paddling to dangling—Shell today received its final permit (albeit with some new restrictions) to begin drilling for oil in the Chukchi Sea. Preparatory work could begin as early as next week.
This development, opposed by so many experts, threatens our last pristine ocean and could destroy the homes of countless endangered, irreplaceable species—along with the livelihoods and health of the native Iñupiat community.
Back in May, as you probably recall, Artisan prominently joined Seattle activists in #ShellNo! protests that received worldwide press. The movement expressed peaceful but vigorous opposition to the arrival of Shell's oil rig parking in the Port of Seattle—and to Arctic drilling generally.
Artisan Electric designed and built the solar-powered event barge that became the broadcasting centerpiece of this "festival of nonviolent resistance," which featured a colorful "Mosquito Fleet" of boats gathered in Puget Sound. This volunteer armada of "Kayaktivists" represented local citizens as well as major environmental orgs from the Sierra Club to Greenpeace.
The protests corresponded with the locally unpopular arrival of the 307-foot-tall Polar Pioneer oil rig in our Port, as Shell plans to keep its rigs in Seattle except during the brief Arctic-summer drilling season.
But the opposition also extended to Shell's plans to drill exploratory wells in the Chukchi Sea—plans preliminarily approved by the Obama administration in May, and finalized today.
Protests in the Pacific Northwest continued when, on July 29, our brethren to the South staged an admirable opposition from a different angle (so to speak). Greenpeace climbers conducted a bridge blockade that continued the Kayaktivist movement.
Thirteen activists spent 40 hours suspended from St. Johns Bridge in Portland (with temps near 100˚) in an attempt to block Shell's icebreaker—the MSV Fennica—from leaving for the Arctic. (The Fennica was in Portland for repair of a 39-inch hole in its hull.)
Despite the valiant efforts of the blockaders (which cost Greenpeace $2500 in fines for every hour the protesters hung from the bridge; five of the individual protesters were fined $5,000 apiece by the Coast Guard "for interfering with the safe operations of a vessel") the ship made it out and arrived in Alaska. The company then announced its readiness to drill as it receives the final government go-ahead—which happened today.
Greenpeace USA executive director Annie Leonard stated that they had hoped delaying the icebreaker would give President Obama more time to reconsider giving Shell the last permit it needs to drill.
That didn't happen. And although the newly minted, progressive Clean Power Plan—EPA rules/standards that establish the first-ever national limits on carbon pollution from power plants—was a laudable victory, environmental groups question the administration's seemingly contradictory approval of drilling practices.
In announcing the CPP—called by the White House "the biggest step we've ever taken to combat climate change"—the president said "This is one of those rare issues—because of its magnitude, because of its scope—that if we don't get it right we may not be able to reverse, and we may not be able to adapt sufficiently. There is such a thing as being too late when it comes to climate change…The science tells us we have to do more."
The League of Conservation Voters states: "Arctic drilling is completely incompatible with President Obama's leadership on climate."
The risks of devastation to the climate, to the remote haven of unique wildlife, and to its indigenous people are all well-established—as is the lack of preparedness to mitigate a disaster.
The Chukchi Sea includes Wrangel Island, a fragile marine ecosystem and one of the most protected wilderness regions in the world. It's home to the largest population of Pacific walruses, and is the world's largest denning ground for polar bears.
The Bureau of Ocean Energy Management—the U.S. government agency responsible for regulating Arctic drilling off the Alaskan coast—estimates the probability of at least one large (as in thousands of barrels!) oil spill over the lifetime of the lease if Shell extracts oil in the Chukchi Sea.
What's more, Shell doesn't disagree—and seems willing to accept this cost of doing business. Royal Dutch Shell's Alaska vice-president has admitted he believes "there will be spills" by companies drilling for oil in the Alaskan Arctic. http://www.telegraph.co.uk/finance/newsbysector/energy/oilandgas/9712687/Shell-Alaska-boss-There-will-be-spills.html
And most experts agree that a spill under Arctic conditions will be extremely difficult to clean up.
Shell's  track record when it comes to Arctic drilling doesn't hearten environmentalists or local peoples. In its infamous 2012 Arctic drilling attempt, Shell's rig the Kulluk ran aground off the Alaskan Coast. The Coast Guard found that Shell had sent the rig out with "inadequate assessment and management of risks."Another vessel, which had previously failed to secure permission for drilling, ran adrift in Dutch Harbor and caught fire.
Shell's contractor, Noble Drilling, pled guilty to eight felony environmental and maritime crimes that occurred during the 2012 foray in Alaska and agreed to pay a $12.2 million fine. It violated multiple Clean Air Act standards and had inadequately tested equipment for containment in the event of a spill.
Opponents argue that all of this powerfully suggests Shell is dangerously underprepared to drill in this environmentally sensitive area.
Moreover, drilling and accelerated climate change threaten the health and subsistence of the Iñupiat community, who face respiratory problems and other ailments due to oilfield proximity, and potential relocation due to massively accelerated loss of sea ice.
There's also tremendous scientific consensus that fossil fuels need to stay in the ground in order to reduce carbon emissions—as we so desperately need to do in order to slow climate catastrophe. The planet doesn't need us to tap and burn more oil—any more than it needs that oil to spill over one of our most sensitive and precious environments.
The League of Conservation Voters asks that we send a message to President Obama and the Interior Department:
http://ow.ly/R1i9C
They note:
The fight is not over. Shell is years away from producing Arctic oil and bringing it to market. They will need permits next year, the year after, and so on to continue their plans. The Obama Administration will also be deciding next year whether additional oil companies should be allowed to purchase leases and drill for oil in the Arctic Ocean.
A few years ago, it seemed all but certain the dangerous Keystone XL Pipeline would transport the dirtiest oil on the planet through America's heartland. But we picketed, protested, and petitioned — and President Obama vetoed the pipeline earlier this year and we remain hopeful that we're nearing a flat-out rejection. We can achieve this success again.
We at Artisan Electric will continue to do everything in our power to contribute to a clean, healthy, sustainable energy future. And we'll continue to join with others locally, nationally and globally to support practices and policies that slow climate change—and block those that would hasten it. We're proud to be part of the unprecedented solar surge that has created so many jobs and so much clean power—and that promises an energy future we can all live with…literally.