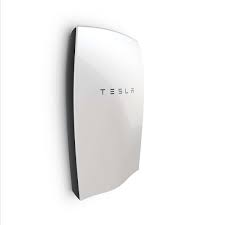 Late last week, Tesla founder and SolarCity Chairman Elon Musk announced Tesla's new battery based offering, the Powerwall. Since then, customers have been calling and writing us expressing a huge amount of interest in the Powerwall. We couldn't be happier to see the lowly battery get a sexy Tesla makeover and lots of media attention, and we'd like to answer some of the basic questions surrounding the Powerwall.
What is the Powerwall?
Tesla Powerwall is a rechargeable lithium-ion battery pack designed for backup power and self-consumption of solar PV power generation. It hangs on your garage wall, and is self-contained. The Powerwall consists of Tesla's lithium-ion battery pack, a liquid thermal control system, and software connecting the battery pack to a solar inverter.
What does the Powerwall actually do?
The unit essentially gives customers the flexibility to draw energy from their own solar reserves. Possible benefits include:
Back-up power – Assures power in the event of an outage
Load shifting – The battery can provide financial savings to its owner by charging during low rate periods when demand for electricity is lower and discharging during more expensive rate periods when electricity demand is higher
Increasing self-consumption of solar power generation – The battery can store surplus solar energy not used at the time it is generated and use that energy later when the sun is not shining
Do I need a Powerwall for my home?
For now, the Powerwall will only be helpful to Washington State residents as a small battery back-up system. The last two benefits listed above do not actually apply to Washington: we don't have peak demand rate changes here; and we have net metering, which allows you to store your power at a one-to-one level on the grid with no efficiency loss. Why store it, when you can get paid for it?
Even as a battery backup system, though, just one Powerwall unit is not very powerful. A traditional battery backup system Like the Outback Radian produces enough power to run critical loads in your house for a few days, even in the winter. The Powerwall will run one or two circuits for a few days. Think lights and a refrigerator. You can stack them together to get more power, however, so this limitation is one of cost.
Speaking of cost, the key benefit of the Powerwall over traditional battery backup systems is that it's not going to cost you $12-15K to have battery backup, mostly because you won't need two inverters and extra controls.
The Powerwall will work seamlessly with Solaredge inverters, which we already sell. Most of our customers know that we love Solaredge, and if it weren't for the production incentive favoring in-state product, we'd sell a lot more of them. Well, good news. Solaredge is one of only two inverters on the market that will make the Powerwall "plug-and-play."
When can I get one?
Tesla has been using the Powerwall in California for over a year now, and announced that it will be available to a dealer network everywhere else by the end of summer. We will be selling the Powerwall as a backup option for new and existing customers as soon as it becomes available and we become certified dealers.
If you are interested in the Tesla Powerwall for your new or existing solar PV system, contact us and we will provide your with more information and options when we have more details and availability.
If you missed the full press release, you can check it out below.